7 Refreshing Drinks to try this Ramadan.
Ramadan is around the corner and if there's one thing that's most wanted on the iftaar table, it's the drinks. Whether you are exhausted from all the kitchen chores, or mentally drained from the office work, there's nothing these drinks at iftaar cannot fix.
Here are 7 refreshing drinks you must try this Ramadan.
Classic Lemonade
A classic Lemonade of course tops the list. To make this icy-cold delight, all you need is:
6-8 freshly squeezed lemons
10-12 tablespoon sugar
1 teaspoon salt (optional)
1 jug of water
tons of ice cubes, depending on how chilled you like it.
Simply dissolve the sugar and salt in a cup of water. Stir in this concentrate with the rest of the ingredients and Voila your lemonade is ready!
Watermelon Lemonade
If you are looking for lemonade with a twist, this recipe is for you! It combines the tanginess of lemons with the sweetness of watermelons in the most perfect ratio. To make this take:
6 cups chilled watermelon cubes
1 liter water
crushed ice cubes cubes
6-8 freshly squeezed lemons
mint for garnish
In a blender, add watermelon, lemon and half of the water. Blend it to a puree and pour it in a jug with the rest of the water, ice cubes, and mint. If you want it a little more sweet you can always dissolve some sugar. Recipe inspired by Cooking Classy.
Ginger Peach Soda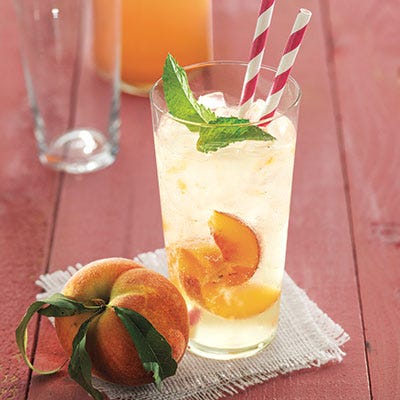 While it may sound a bit complicated, this one only takes 10 minutes to prepare. Just blend in the following and pour:
2 tablespoons sugar
1 liter 7UP
1 1/2 peeled and sliced peach
Mint leaves for garnish
Detox Water
Want to keep a diet but plain water just tastes too bland at iftaar? This zero-calorie detox water is just the right thing for you. Cut thin slices of cucumber, lemon, and mint. Next, add them to water and leave it to chill for 4-6 hours. Take it out at iftaar and strain or not, it's up to you! If you want to know more about how to eat and lose weight click here.
Strawberry lemon Punch
You can never get enough of lemons. This recipe combines strawberry and lemons, the two favorites! Get the recipe here.
Apple and lime Sangria
This flavorful drink has the bonus of real fruit chunks! You need:
2 teabags of your favorite tea brand
1 cup boiling water
2 cinnamon sticks
3 cups pomegranate juice
3 cups 7UP
2 diced apple
1 medium lime thinly sliced
2 lemons thinly sliced.
Pour the boiling water over cinnamon sticks and teabags and steep for 5 minutes. Mix this with the rest of the ingredients (except 7UP) in a jug and leave it to refrigerate. Before serving, mix in 7UP and add ice.
Iced Cappuccino
This one is more of a post-Taraweeh Caffeine fix. To make this you need:
1 shot Espresso
1 cup milk
loads of ice
4 teaspoons honey
Chill the Espresso. Next stir in honey and ice. Pour milk over the top to give this drink its signature ombre shade!